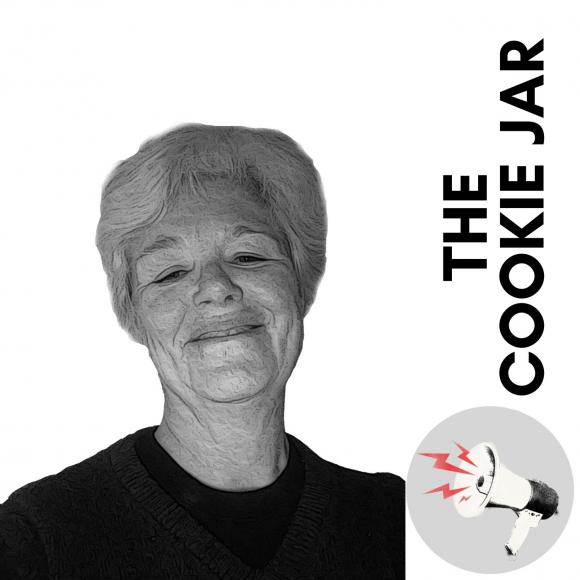 What if we could combat some of the isolation we are all feeling by discussing opportunities available around the world that make for an excellent recipe for grass roots change?  The Cookie Jar explores this question with interviews, ideas and the sharing of our favourite recipes.
Monday 11am-12pm
Thursday 11am-12pm
The Warm and Fuzzies, with Ursula Yeker of The Wooly Ewe and Carolyn Barnett of Barnett Knitts.

Significant Vectors of COVID, with Justin Piché, Associate Professor of Criminology at the University of Ottawa and c

Weaving a Story, with Miranda Bouchard and Cassandra Spade of Thinking Rock Community Arts.

In the spring of 2021, Brooke Baker and Celina Lovisotto co-founded a project in Kingston, Ontario called Bags of Pro

Part two of The Red Umbrella, with Cybèle Lespérance.

Part one of The Red Umbrella. Cybèle Lesperance is articulate, in multiple languages.

Love is a four-legged word, part two. Amanda Frost and Forest Higgins of the Vancouver Rat Club return to help me con

Love is a Four-Legged Word, part one. You thought I meant cats or dogs, right?

With a network of volunteer chapters nationwide, the Council of Canadians brings people together through collective a

Sea Salt Learning is a highly respected global consultancy that helps organizations—and individuals—get fit for the s

Sue Knaup of the non-profit organization One Street is back!

This episode is a re-airing of an earlier episode, originally aired in November, 2021.

This episode is a reairing of an earlier episode, originally aired in June, 2021.

Christmas is a time for giving. What if this episode were all about my giving you a gift?

The world has been in pandemic mode for over a year. Natural disasters. Political unrest. Social isolation.

This week, we're training community activists in Bosnia and Herzegovina (BiH).

I'm a geek. One of my favourite things to do is pore over a map.

The average Canadian prides themselves on understanding what constitutes a healthy meal.

FLAP, or Fatal Light Awareness Program is a registered Canadian charity whose mission is to safeguard migratory birds

Every year, I pick a food item that I want to learn more about.