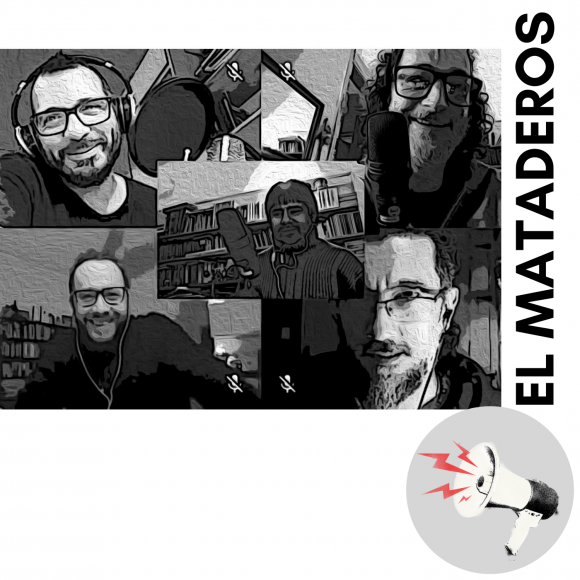 El Matadero - Slaughterhouse is a radio program devised and produced by "The usual ones": quintet of Buenos Aires porteños raised in the outskirts of the big city, whom fortune threw to places as diverse and distant as Mar del Plata, to the south of Buenos Aires ot Smithers, in British Columbia, Canada.
"The usual ones" we try to make a biweekly program that covers wide topics, as wide as the whole America, from the doors of the immense Patagonia, to the very entrance of Alaska. We propose to approach the different musical rhythms of our continent, from a tangential point of view, using music as an excuse for the analysis of underlying cultural issues.
El Matadero - Slaughterhouse es un programa de radio ideado y producido por "Los de siempre": quinteto de porteños argentinos criados en los arrabales de la gran ciudad, a quienes la fortuna arrojó a sitios tan diversos y distantes como Mar del Plata, al sur de Buenos Aires o Smithers, en British Columbia, Canadá.
"Los de siempre" intentamos hacer un programa semanal que abarque ancho, tan ancho como la América toda, desde las puertas de la inmensa Patagonia, hasta la entrada misma de Alaska. Nos proponemos abordar los distintos ritmos musicales de nuestro continente, desde un punto de vista tangencial, utilizando la música como excusa para el análisis de cuestiones culturales subyacentes.
Tuesday 5-6pm
Thursday 6-7pm
Cocina Rusa.

La noche del apagón.

Canadá: día de la verdad y la reconciliación

Elecciones PASO Argentina

Historias de fugas y estafas.

¿Discapacidad o diversidad funcional?

Fuga de la cárcel de Rawson

El Ajedrés.

Historias de taxista.

El auto argentino que anda con basura.

Misterios: las líneas de Nazca.

Orgullosos celebrantes de la diversidad