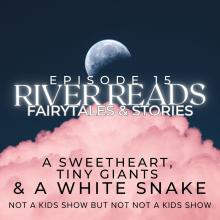 River Reads is BACK with avengence, gore and stories with Episode 15 - A Sweetheart, Tiny Giants & A White Snake. 
River Reads Fairytales & Stories comes back with a bang! Enjoy an original fairytale, The Tiny Giant, by ours truly, host narrator River Wilde. Back after a long break over the summer, Wilde is back with charm with more stories and music and of course a good River Rambles.
River Reads is a program for all ages to escape into creative commons bedtime stories and fairy tales; both new and old, but mostly old and at times macabre, or silly, or even perhaps a little confusing as written in old english and the host fumbles words, and then there's stories who have not aged well.
The River Reads show is "not a kids show but not not a kids show". Listener discretion is advised.
This week on River Reads, Episode 15 - A Sweetheart, Tiny Giants and A White Snake. Reading in no particular order, from The Grimm's Fairy Tales*
The White Snake (Grimm's); and 

Thumbling the Dwarf and Thumbling the Giant (Grimm's) and

Plus a special debut reading of "The Tiny Giant", by your host River Wilde. 
 *Grimm's Fairy Tales by Brothers Grimm. Kingsport Press, Inc. Kingsport, Tennessee. 1976 Printing.