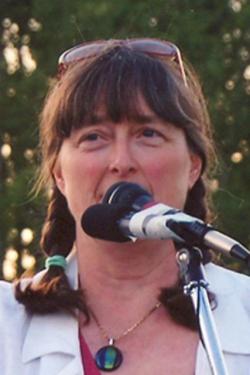 Host Sheila Peters, who usually interviews writers and invites them to read from their work and pick a couple of tunes to play, is taking  bit of a break. She still may do the occasional show if time allows - if you hear of writers coming to town, let her know.
This show is sponsored by Mills Office Productivity.
Friday 10-11am
Sunday 8-9am
Kispiox writer Graeme Pole presents his new novel, Siren Call, a

'Ilhdesinon Birdy Market and Melanie Morin read from and talk about the newly released second edition of

Death and dying is the theme of today's In the Shadow of the Mountain.

Fraser Lake writer Janet Romain talks with Sheila about her two books - the nov

Okanagan writer Laurie Carter is Sheila's guest today to talk about the second

Joan Haggerty, author of The Dancehall Years, visits Sheila in the studio to talk about her novel in the fir

Cick's own Matt Simmons joins Sheila to talk about his life and work as a writer, visual artist and radio star.

Jennifer Manuel talks with Sheila about her activism, her work in First Nation

Kathy Page joins Sheila to talk about the North American debut of her 1992 no

Sheila talks with Prince George poet, Al Rempel


Tricia Dower reads from and talks about her new novel, Becoming Lin, j

Sheila talks with Vancouver writer Carol Shaben about her writing life with

Kim Struthers and Jane Stevenson join Sheila to talk about winter: winter writing, winter reading and winter songs.

Sheila reads her Christmas story, "Unwrapped" and plays songs from Forbes and Kaldor's "New Songs for an Old Celebrat

Sheila talks with Terrace's Ev Bishop about romance writing and what makes a write

Sheila plays a BBC Radio 4 play of White Nights by Ann Cleeves.