CICK's Bridging Culture brings the audio from Dolores Alfred's Witsuwit'en Wednesday videos onto the airwaves of Smithers Community Radio!
"A fun way of learning Witsuwit'en! Started in 2017 by Indigenous educator Dolores Alfred and Smithers Mayor Taylor Bachrach".
Be sure to check out the Witsuwit'en Wednesday Facebook page to see her videos and upload your own!
Find the Videos and more Here.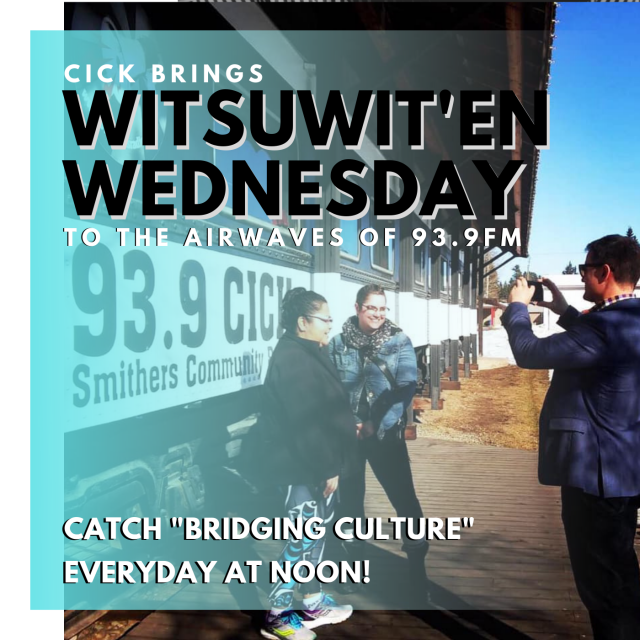 Special thank you to:
Dolly Alfred
Taylor Bachrach
Ewk Hiyah Hozdli (song: Undimenik)
Sabina Mina (producer)
Meghan Brady (producer)
"This initiative is made possible by the Community Radio Fund of
Canada, the only organization mandated to financially support campus
and community radio stations in Canada."
"50th" Episode Group  Feb 21 2018

"I love you with all my heart"     Feb 14 2018

"Red"  COLOURS   Aug 14 2019 

"Take Care"     March 28 2018

"Blue"  COLOURS   Aug 7 2019

"Its Spring Today"  March 21 2018

"I'm Tierd to"   April 17 2019

"What Are you Doing"    March 14 2018

"50th Witsuwit'en Wednesday"  with Meghan 

"Today is a nice day and The Sun is shining"

"What Are You Saying"     March 20 2019

"I havent seen you in a long time"