Free youth workshops - Part of Growing Together with Deck Fest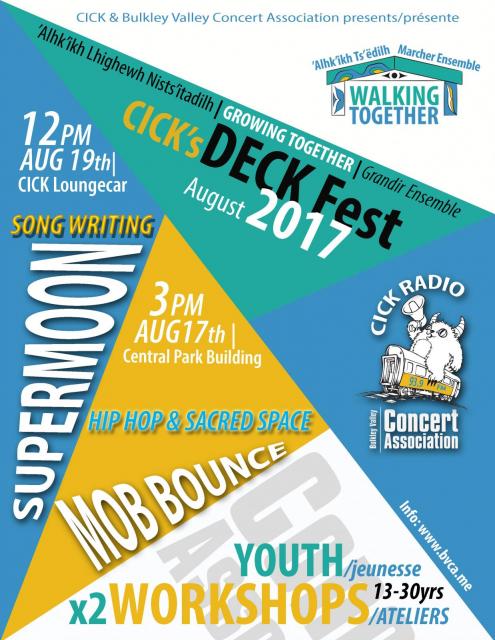 CICK and Bulkley Valley Concert Association (BVCA) Present:
'Alhk'ikh Lhighewh Nists'itadilh |Growing Together|Grandir Ensemble with DECK Fest
---
2 - FREE - YOUTH COMMUNITY WORKSHOPS (for ages 13-30)
"CICK Smithers Community Radio, BV Concert Association and the Government of Canada, have joined together to co-present FREE Community Workshops as part of BVCA's trilogy of community building summer concerts, 'Alhk'ikh Ts'ёdilh : Walking Together : Marcher Ensemble. Joining with the vision of the BVCA's Walking Together series, this year's Deck Fest, Growing Together, has a focus on community, youth and indigenous artists."
WORKSHOP INFO:
What:

A FREE Youth Workshop (ages 13-30) facilitated by

Mob Bounce

!
When: Thursday, August 17th, 2017, 3pm-4:30pm
Where: Central Park Building - Dance Studio​ (upstairs)​
An interactive workshop that provides youth the opportunity and experience to learn Mob Bounce's approach to combining traditional and spiritual Indigenous Culture with contemporary methods of musical and artistic expression.
Check them out here:
https://mobbounce.bandcamp.com/
---
What: A FREE Youth Workshop (ages 13-30) facilitated by Supermoon!
When: Saturday, August 19th, 2017, 12:00-1:00pm
Where: CICK Train Car Lounge (Central Park)​
Supermoon is an all girl band from Vancouver, that rocks moody fuzz pop with style. These fine beings are ready to sit down and talk song writing, and have a great discussion with all who attend their workshop. Come one come all and hang with Supermoon in the CICK Loungecar.
Check them out here:
https://allmoonsaresuper.bandcamp.com/
---
FOR MORE INFORMATION:
Meghan Brady, Lead Coordinator
For workshop info, program and bus shuttle schedule: www.bvca.me