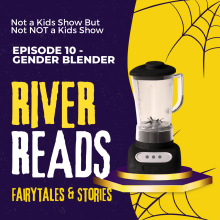 This week on River Reads'  (April 29, 2023) Episode 10 - Gender Blender, host narrator River Wilde reads two tales. A longer fairy tale, titled 'The Blue Belt', from the Norwegian folklore collection by Asbjørnsen and Moe's,  East of the Sun and West of the Moon and Other Tales. And a second titled, 'King Thrushbeard', from the Brothers Grimm's collection, 'Grimm's Fairy Tales'.  Ending the episode with the new segment Gender Blender. In which, last weeks' Episode 9 - 'Trolls, Goats and a Moon's" Gender Blender tale is reveal! The suspense!
For those new, or who might have missed it. 'Gender Blender' is a new segment introduced in Episode 9. Where each week genders will be secretly flipped in one of the tales, and which tale is the Gender Blender tale, will not be revealed until the following episode. So you'll have to stick around to find out. 
This week on River Reads:
The Blue Belt. East of the Sun and West of the Moon, and Other Tales, by Asbjørnsen, Peter Christen, 1812-1885, and Moe, Jørgen Engebretsen 1813-1882. Illustrated by Tom Vroman. Macmillan. New York, 1963.

King Thrushbeard.Grimm's Fairy Tales by Brothers Grimm. Kingsport Press, Inc. Kingsport, Tennessee. 1976 Printing.
River Reads is a program for all ages to escape into creative commons fairy tales and stories, as narrated by host River Wilde. The River Reads show is "Not a kids show but not not a kids show". Listener discretion is advised. Enjoy tales, both new and old, but mostly old and at times macabre, or silly, or even perhaps a little confusing as written in old english and the host fumbles the words, or those classic stories that have aged poorly. Featuring 'River Rambles', 'Gender Blender', and 'River Reads' Rating System'.  
River Reads Rating System: 
MON: Maybe Offensive but the Narrator can not quite put their finger on why, it just feels weird.
QM: Questionable Message; for those easily offended, or who do not want to engage in a possible involved discussion with your child.
PGD: Possible Gore and/or Death ("gore" is subjective)
GGD: Gross Gore and/or Death (Wilde's favorite kind of stories)