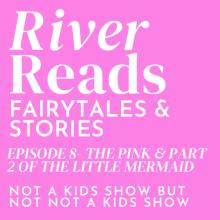 Fairy Tales and Stories, "Not a Kids Show But Not NOT a Kids Show"
This week (April 15th, 2023 @ 10am) on River Reads, Episode 8 - The Pink & Part 2 of The Little Mermaid. Last week, we tried something a little different, reading Part 1 of 2 of 'The Little Mermaid'. This week, Wilde narrates 'The Pink' by Brothers Grimm and reads the conclusion, and part 2, of Hans Christian Andersen's 'The Little Mermaid'.  
Don't worry. If your memory is anything like ours, and we can't remember what we had for breakfast, let alone a story read a week ago, this week, River Rambles a sin-op-sis of last week's Part 1 of 'The Little Mermaid'.
This week on River Reads, Wilde narrates: 
The Pink. Grimm's Fairy Tales By Brothers Grimm. Kingsport Press, Inc. Kingsport, Tennessee. 1976 Printing.

Part 2 of The Little Mermaid. The Fairy Tales of Hans Christian Andersen, Andersen, H. C. (Hans Christian), 1805-1875. Translated by Jean Hersholt. Ed Noel Daniel. TASCHEN. Germany, 2013.
River Reads is a program where those of all ages can escape into bedtime stories and fairy tales; both new and old, but mostly old and at times macabre, or silly, or even perhaps a little confusing as written in old english, and then there's those stories whose premises or message has perhaps not aged as well over the years, let's face it you can't be too picky when you're dependent upon material available to you through creative commons.