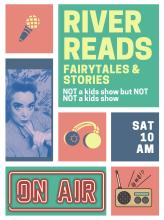 This week (Saturday, March 11th @ 10am, ) LISTENERS BEWARE on River Reads, as we cover some darker tales and play around with narration.
Reading the longer macabre fairy tale, The Bronze Ring, this tale's disturbing and graffic depictions give it a River Reads' Rating of GGD; for Gross Gore and/or Death. Our favorite kind of story!
And as promised in episode two, a brief fairy tale, The Straw, the Coal, and the Bean, will be presented in different narrative fashions. Displaying the influnce narration, and production, can have on the story telling and the listener's understanding of the story.  This tale receives a PGD River Reads' Rating, for Possible Gore and/or Death ("gore" is subjective).