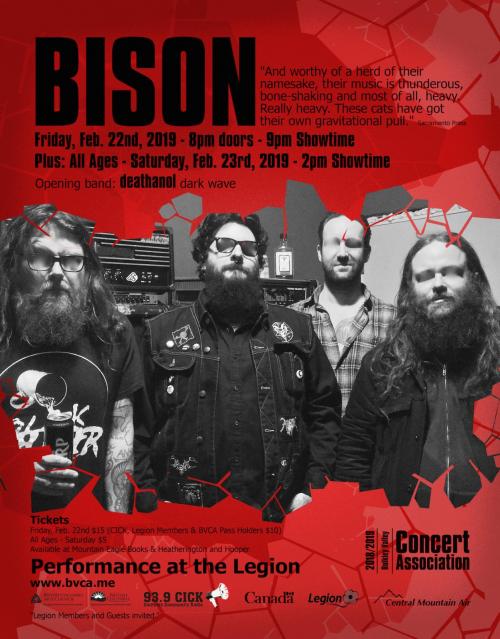 CICK & The BV Concert Association present:
Bison @ The Legion
"And worthy of a herd of their namesake, their music is thunderous, bone-shaking and most of all, heavy. Really heavy. These cats have got their own gravitational pull." - Sacramento Press
With opening local band: deathanol - dark wave
TWO SHOWS over TWO DAYS!!!
ADULTS ONLY: (19+ must bring photo ID)
Friday, February 22nd - 8pm Doors | 9pm Showtime
Tickets: $15 [CICK, Legion Members and BVCA Pass Holders $10]
ALL AGES:
Saturday, February 23rd - 1:30pm Doors | 2pm Showtime
Food available for purchase!
Tickets: $5
Tickets available at:
Mountain Eagle Books
Hetherington & Hooper
Check out the Facebook Event
Event start/stop:
Friday, February 22, 2019 - 20:00

to

Saturday, February 23, 2019 - 16:00